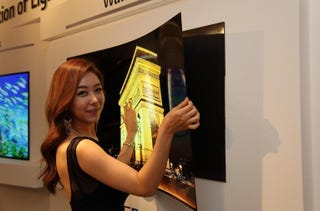 LG's display arm recently showcased a detachable organic light-emitting diode (OLED) panel that's thin and light enough to stick to a wall using just a magnetic mat.
The impossibly thin panel measures just 0.97mm (0.038 inches) thin and weighs only 1.9kg (4.18 pounds) despite the fact that it measures 55-inches diagonally. LG's existing OLED panels are "thick" by comparison at 4.3mm. OLED technology isn't cheap, however, which is one of the reasons adoption has been slow thus far. However, OLED panels have a historically low yield rate, meaning a large number of panels that roll off the assembly line don't pass quality control standards. Hopefully, as production techniques improve, waste will be reduced and the cost of ownership will come down.
Right now, an LG 65-inch, 4K OLED set will set you back $9,000 while its LED counterpart can be had for less than $2,000.